Tile cleaning York and Stone floor cleaning York
Tile Cleaning
Tiled floors look great in your home or commercial premises and provide an easier to clean alternative to carpets. Just like carpets, tiled floors require regular cleaning, grout lines are even more important, as grout is very porous and much harder to maintain. Regardless of how clean and polished your tiles are, if the grout lines are dirty and stained, the entire room will look dirty and neglected.
Each type of floor has its own advantages and vulnerabilities, but there are inevitably going to be consequences of the general wear and tear that occurs to any surface. In many cases dirt and grit have worn away the sealant or the smooth finish tiled floor, leaving minute scratches in the surface that dulls the finish. Dirt trapped in the pores of your tiles and grout can prove impossible to remove with traditional cleaning methods and no matter how hard you mop or scrub, you just don't seem to get a good result like you used too, its time to get in a professional.
It is recommended that all natural stone floors, marble, limestone, sandstone, travertine and slate benefit from sealing to resist dirt and help maintain its newly cleaned appearance.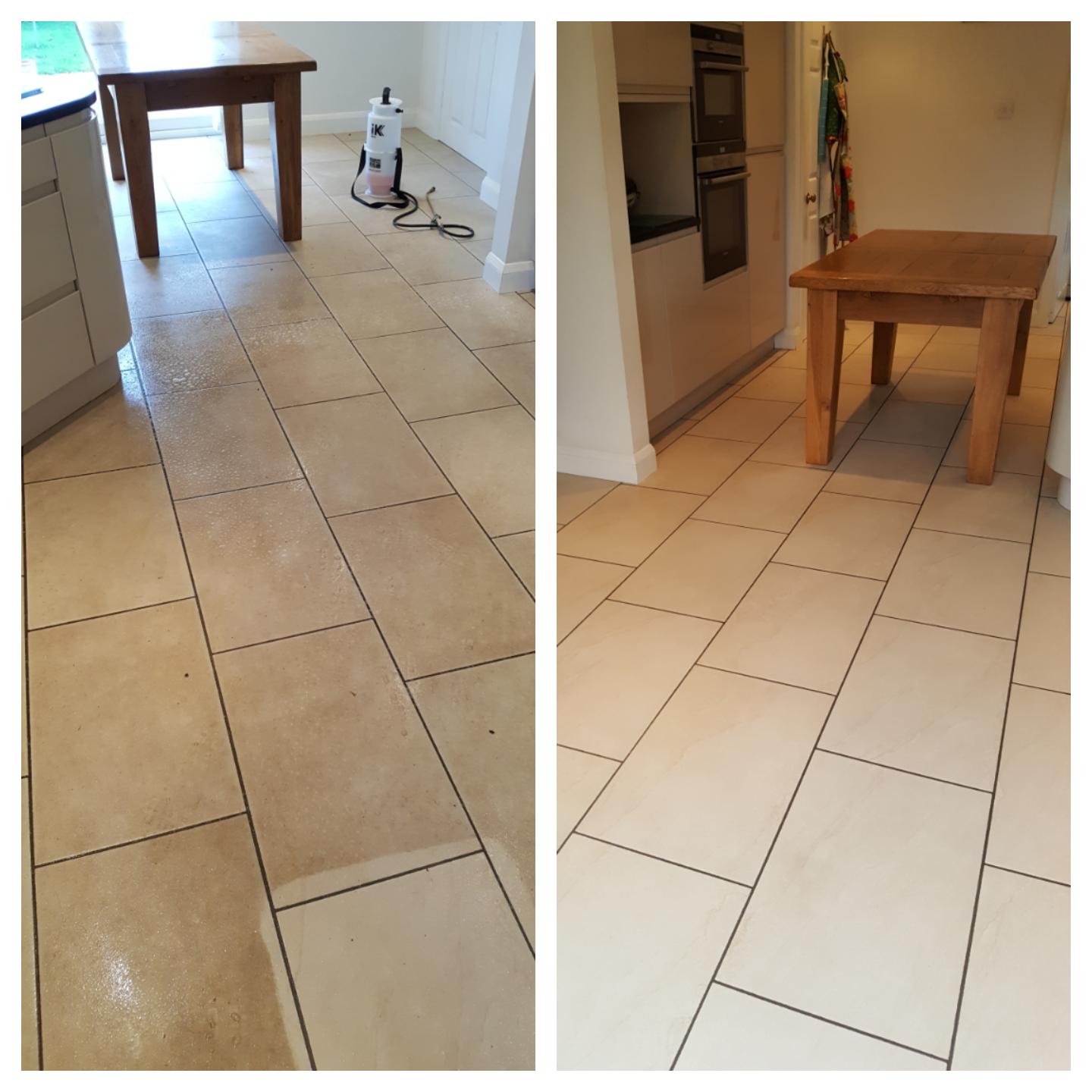 Tiled floor restoration
In addition to tile cleaning, your floor may require a certain amount of restoration work in order to restore it to its original beauty. Stone floors such as marble, travertine and limestone may need to be diamond polished in order to bring them back to their original condition. Scratches, grit and ingrained dirt can all change the appearance of stone floors over time. My stone floor polishing process involves using diamond polishing pads to gradually grind the surface of the marble tile removing scratches and prepare it for polishing. This process will restore your marble tiles to their original shine, ready for sealing.
I can then discuss sealing your floor if you wish to make it easier to clean and to keep that new look for longer. I use impregnating sealers which soak into the stone forming an invisible barrier. All stone is porous and will absorb dirt or spillages unless correct protection is applied in the form of a specialist impregnating floor sealant. I have a selection of sealants available from satin to colour enhancing protection.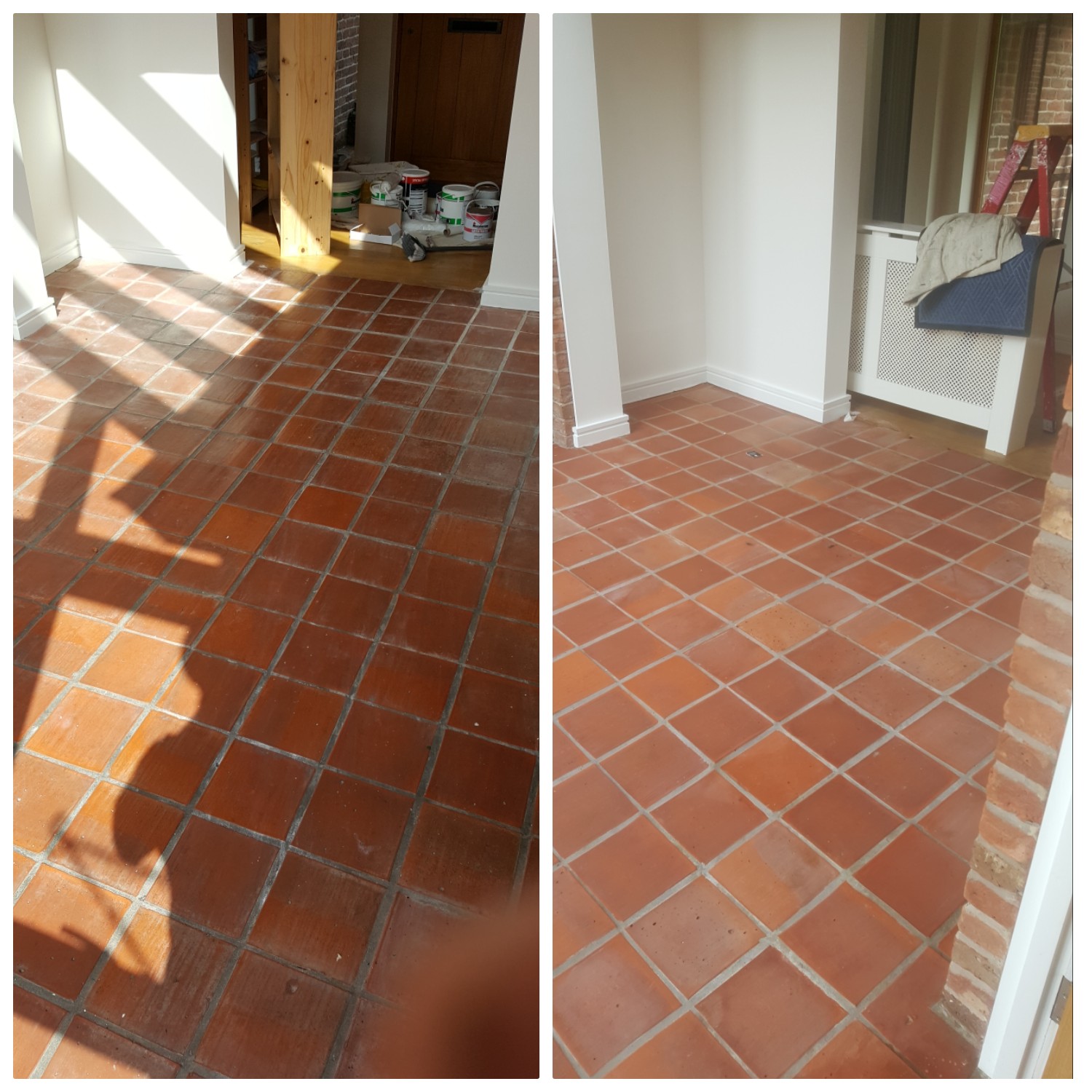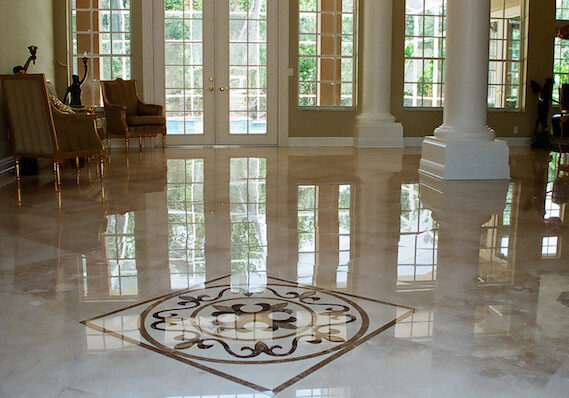 Marble
Marble surfaces can show wear quite quickly, but can be rapidly restored by honing and polishing. Honing gives a satin smooth surface with little light reflection, where as a polished finish has a glossy surface that reflects light, which can dramatically emphasise the colours and markings in the marble.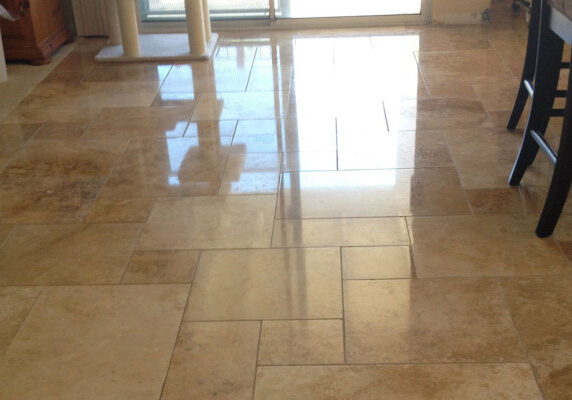 Travertine
Travertine has natural holes and these holes are filled before finishing to give a smooth finish.
Over time you will notice holes appearing because nature of these tiles and how it was formed.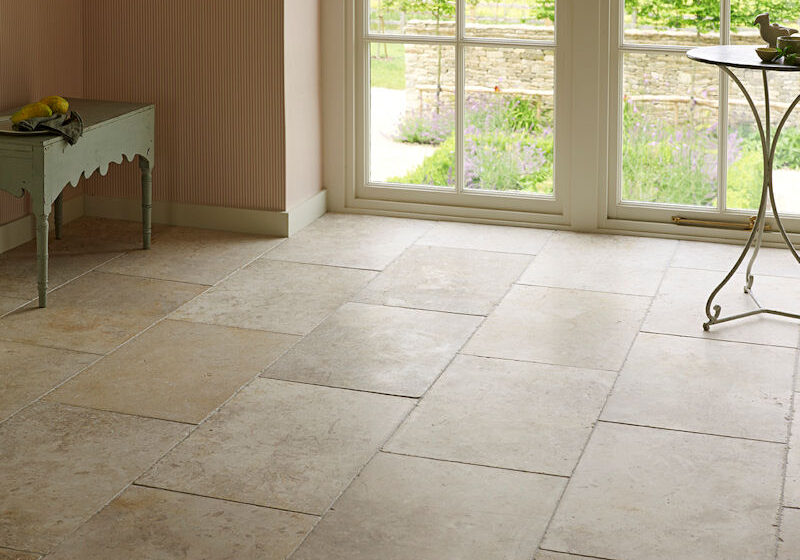 Limestone
If your limestone floor as become dull and worn and not showing its true colour, then you'll soon realise that mopping and scrubbing isn't enough or perhaps you have recently installed your limestone or your previous sealer is wearing off. A deep clean and top up of sealer will help keep your floors looking great for many years.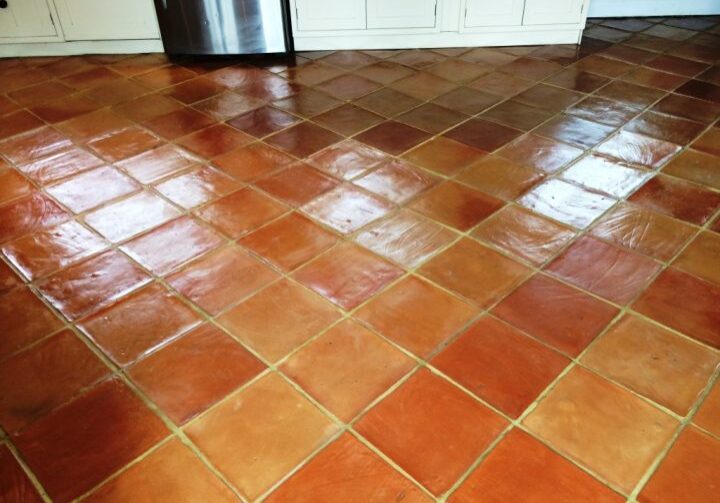 Terracotta
Cleaning and sealing terracotta tiles starts with stripping off the old polish and sealers using specialist sealer remover chemicals.
Once all the old finishes have been removed, the tiles are deep cleaned to remove ingrained soil.
The tiles are then left to dry before they are re-sealed.
As the tiles are very porous, they can take 3 to 5 days to fully dry before they are ready for sealing.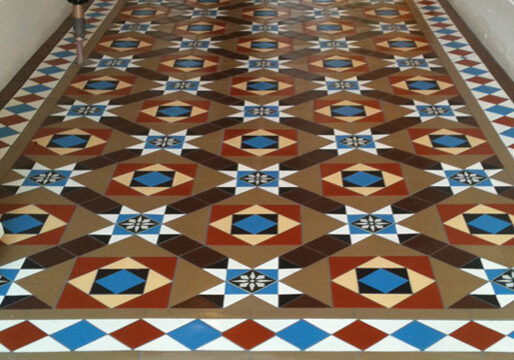 Quarry/Victorian tiles
Often found under other types of more modern flooring, yet once exposed they can clean up great.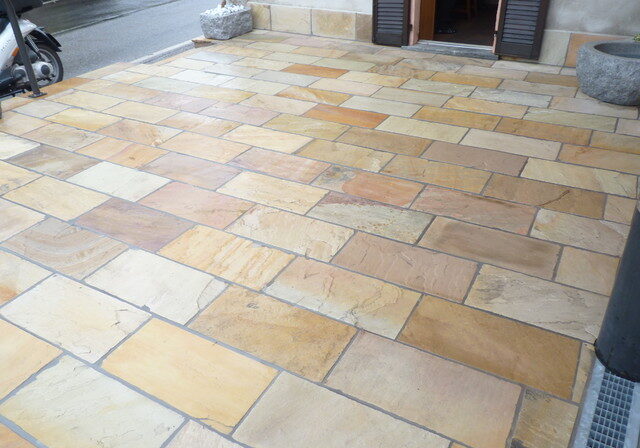 Sandstone
Sandstone is an open stone which means that dirt can easily spread into the pores and voids in the surface of the stone, making it difficult to remove soil if you don't have the correct equipment.
The rough surface of the stone means that mopping alone will not remove much of the surface dirt. It just spreads the dirt around the surface of the stone and into the grout lines.
The secret to maintaining the beauty of the stone is to apply a sandstone sealer that prevents prevent soil and spills seeping into the surface of the stone as well as making it easier to clean the floor.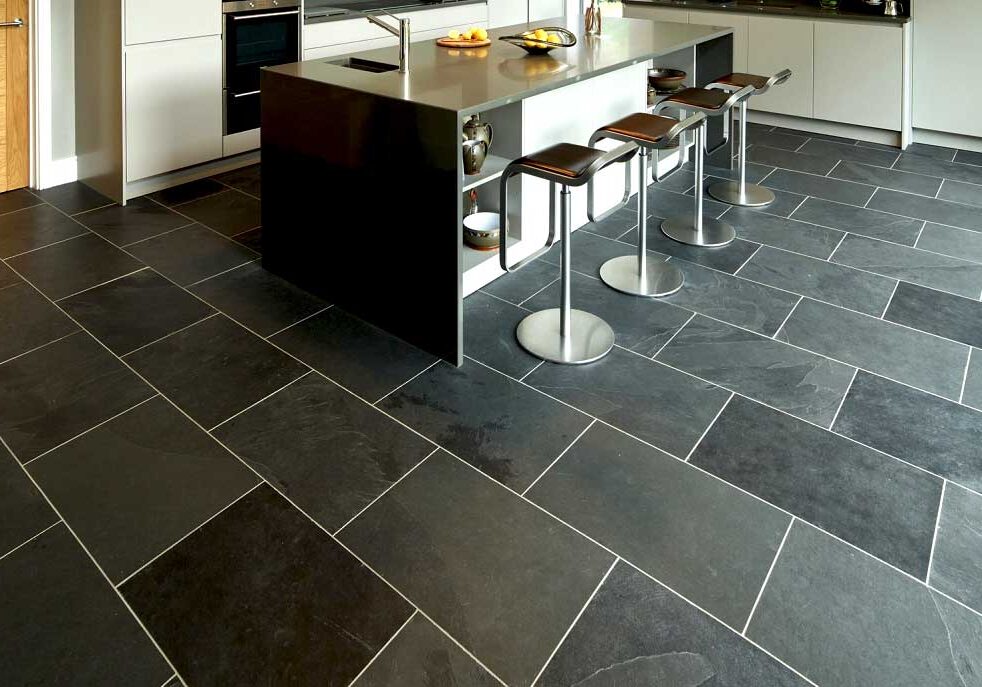 Slate
Whilst slate has a low porosity, it will still absorb water and oil based spills, leaving annoying marks. So it is always better to apply a sealer on the tiles to help maintain their appearance.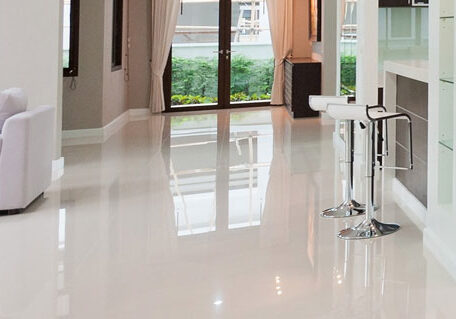 Porcelain/ Ceramic
Porcelain tiles come in many guises, large small, rough smooth, high shine dull, stone replicas and many other types, each one beautiful in there own right. Some porcelain tiles very rarely get dirty and some have textures that hold onto dirt and grease making them hard to clean yourself
Tile cleaning care tips:
Sweep or vacuum floors to remove any debris and grit before using any cleaning products. Damp mop your tile floor at least once each week.

After cleaning, rinse the entire area with clean water to remove any cleaning solution residue to prevent rapid resoiling.

Use a sealer on grout joints shortly after installation.
Tile cleaning York and Stone floor cleaning York
 and surrounding area